SPEECH & HEARING THERAPY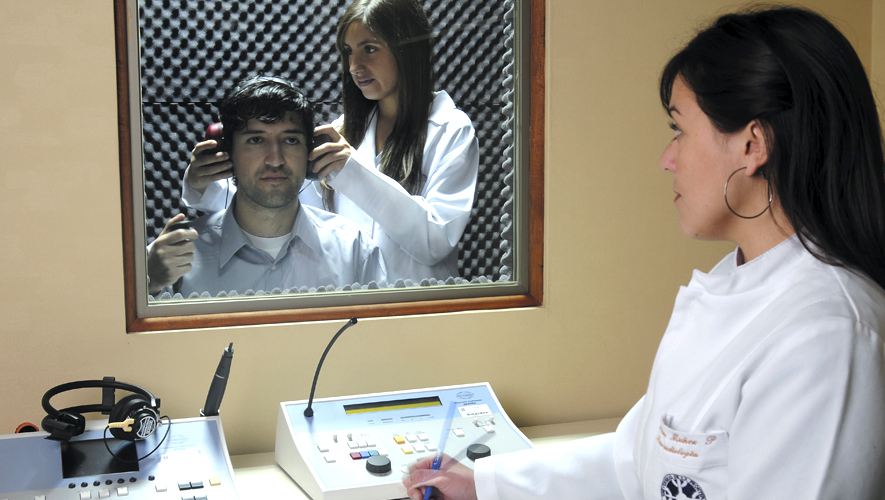 Professional Degree:
Phonoaudiologist
Academic Degree:
Graduate in Speech and Hearing Therapy
Code:
30021
Duration:
10 semesters
Study arrangements:
Semi-annual, daytime, semi-flexible curriculum
Director:
Mg. Raúl Alarcón Vega


This email address is being protected from spambots. You need JavaScript enabled to view it.


Phone: 45 - 2734125 / 2744306
*At the moment of enrollment, the student has to certify that his/her health status is compatible with the Program.
Program Information
A Phonoaudiologist, trained at the Universidad de La Frontera, is a professional with a solid scientific, humanistic, technological, ethical and moral training. His skills allow him to evaluate, diagnose, investigate, intervene and prevent alterations in oral communication of people in any stage of their lifes, in the context of the family, community and also respecting the cultural dimension. He is ethically and socially responsible. Therefore, he demonstrates a critical and reflexive attitude of continuous learning, leadership, the capacity of management and research, and being able to generate new knowledge in the field, in order to contribute to the improvement of health and quality of life with his actions.
Occupational field
A Phonoaudiologist, graduated from the Universidad de La Frontera, is qualified to work in:

• public and private health: being part of teams in the specialties of otorhinolaryngology, audiology, neurology, pediatrics, dentistry, craniofacial malformations, physical medicine and rehabilitation, psychiatry, etc.;
• education: preventing, evaluating and treating communication disorders in pre-school and school children; integrates teams in diagnostic centers, language schools and school integration projects;
• arts and communications: works with people from the media, singers and actors who want to improve their voice and speech; putting teams of speech and singing together, in schools, theater academies, radio and television;
• the academic area: joining teaching and research teams, in order to develop conceptual, therapeutic and technological lines of innovation.