SOCIAL WORK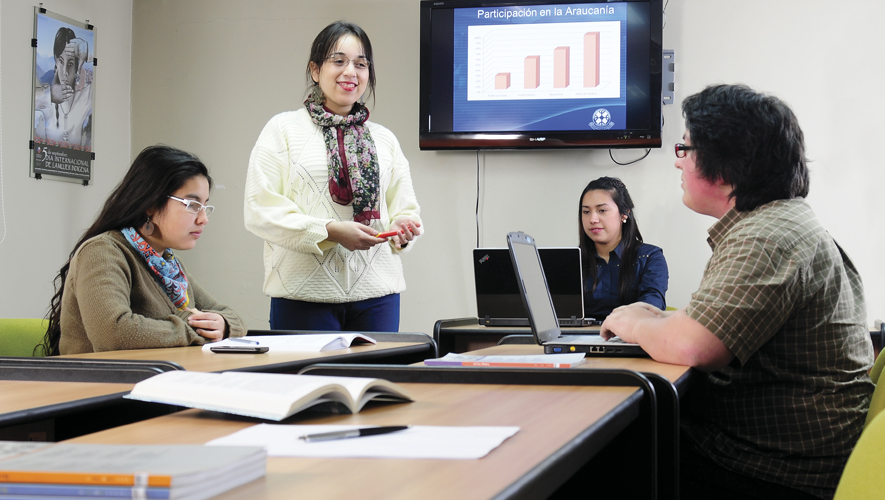 Program Information
The Social Work program at the Universidad de La Frontera is a vocational training program, which leads to the professional title of a Social Worker. The emphasis lies on the educational project, the multidisciplinary and intercultural perspective, and the academic excellence offered to the students.

A Social Worker, graduated from the Universidad de La Frontera, is a professional in social sciences with a solid theoretical, practical and methodological training based on fields of knowledge and / or disciplines such as social work, psychology, anthropology, sociology and law, among others. His comprehensive training and acquired competences enable him to work in an ethically and socially responsible way for human development and solving social problems in areas such as social intervention with families, groups and urban and rural communities; management and evaluation of social programs and projects; human resource and welfare service management; or in free professional practice (mediation, social expertise, consultancies).
Occupational field
Public and state sector in municipalities, regional government (Intendancy, governance, regional ministerial secretariats and services), health (hospitals, specialized clinics, family and community health centers, community health programs), education (schools, universities, professional institutes, student support and welfare services, teaching), justice (family courts, public criminal defender, legal assistance corporations, police, National Service for Minors (SENAME)), housing (Housing and Town Planning Service (SERVIU)).

Companies of the private sector (employees welfare, human resources), non-governmental organizations (NGOs especially linked to the rural and local development), consulting firms, Technical Training Organizations (OTEC), Social Housing Management Organizations (EGIS),Technical Support Service (PSAT).

Free exercise of the profession as an independent consultant, advisor and executor of research and / or development projects, mediator, social expert.