The Office of Outreach and Community Engagement is dependent on the Vice-Rectorate for Academic Affairs of the Universidad de La Frontera and connects scientific-academic, humanistic, artistic and cultural tasks, which are cultivated in the social and environmental settings. It is also generating sustainable and mutual relationships with the community, to enrich the teaching and research and to contribute to the regional and national cultural, social and economic development.
Among the main functions of the Office of Outreach and Community Engagement, it must apply the Policy of Outreach and Community Engagement; establish a permanent and institutionalized dialogue with the relevant actors; analyze, evaluate and approve the academic units´ outreach projects; coordinate and supervise the work of the Offices of Outreach and Community Engagement of the different faculties; and supervise, regulate and register, that the continuous activities of training are carried out according to the current regulations.
| FACULTY OF LAW AND BUSINESS | FACULTY OF AGRICULTURAL AND FORESTRY SCIENCE | FACULTY OF DENTISTRY |
| --- | --- | --- |
| | | |
| FACULTY OF ENGINEERING AND SCIENCE | FACULTY OF MEDICINE | FACULTY OF EDUCATION, SOCIAL SCIENCE & HUMANITIES |
| --- | --- | --- |
| | | |
This unit is responsible for the improvement and innovation of the undergraduate training processes, the promotion of curricular updates, the teaching development and the incorporation of new tools to support the students´ learning processes, with emphasis on Information and Communication Technologies (ICT), in accordance with the Vocational Training Policy.
| | |
| --- | --- |
| Director of Curricular and Teacher development | Mg. Pamela Ibarra Palma |
In accordance with the Vocational Training Policy, this unit is responsible for the implementation of policies and strategies that contribute to the development and evaluation of generic competences in undergraduate students, by enhancing their employability attributes, promoting a permanent link with graduates, creating early contacts with schools and leveling the entry conditions.
| | |
| --- | --- |
| Director of Comprehensive Training and Employability | Mg. Juan Méndez Vera |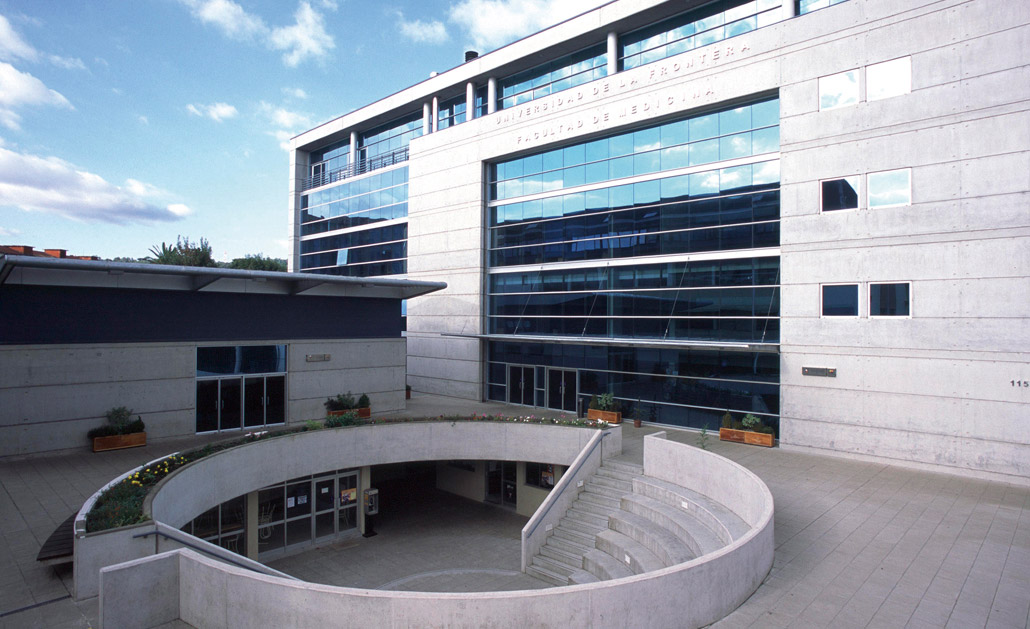 This Faculty defines and bases its mission on a comprehensive concept of Health as an essential component of the well-being of the people and society. It does that in the context of a state university, in a pluralistic and socially responsible way, committed to the training, specialization and continuous perfection of human resources in health, in our Undergraduate and Postgraduate Programs. It disseminates and implements a set of principles and values through its primary functions of teaching, research, extension and management, with the aim of contributing to the regional and national development, on the basis of quality, innovation, participation and respect for diversity.
The Faculty has the following academic departments: The Department of Pathological Anatomy; Department of Basic Science; Department of Surgery, Traumatology & Anesthesia; Nursing Department; Department of Medical Specialties; Department of Internal Medicine; Department of Obstetrics & Gynecology; Department of Pediatrics & Pediatric Surgery; Department of Public Health; Department of Mental Health; and the Department of Preclinical Sciences.
We offer the following programs: Nursing; Speech & Hearing Therapy; Physiotherapy; Medicine; Nutrition & Dietetics; Obstetrics & Puericulture; Chemistry & Pharmacy; Medical Technology; and Occupational Therapy.
Email:
This email address is being protected from spambots. You need JavaScript enabled to view it.
FACULTY AUTHORITIES

Dean
Dr. Patricio Valdés García

Director of Undergraduate Programs
Mg. Ivette Zegers Balladares


Vice Dean
Dr. César Torres Alvial


Director of Postgraduate Programs and Research
Dr. Flery Fonseca Salmanca


Academic Secretary
Dr. Claudio Muñoz Poblete


Director of Clinical Fields
Mg. Marcela Lema García

Director of Outreach and Community Engagement
Dr. Gerardo Espinoza Espinoza
PROGRAMS
Nursing
Dra. Sara Barrios C.
This email address is being protected from spambots. You need JavaScript enabled to view it.
Speech & Hearing Therapy
Mg. Raúl Alarcón V.
This email address is being protected from spambots. You need JavaScript enabled to view it.
Physiotherapy
Mg. Resi Gittermann
This email address is being protected from spambots. You need JavaScript enabled to view it.
Medicine
Andrea González San Martín
This email address is being protected from spambots. You need JavaScript enabled to view it.
Nutrition & Dietetics
Mg. Cinthya Espejo Alvarado
This email address is being protected from spambots. You need JavaScript enabled to view it.
Chemistry & Pharmacy
Dra. Francisca Acevedo Canala-Echavarría
This email address is being protected from spambots. You need JavaScript enabled to view it.
Obstetrics & Puericulture
Bernardita Baeza
This email address is being protected from spambots. You need JavaScript enabled to view it.
Medical Technology
María Francisca Peña T.
This email address is being protected from spambots. You need JavaScript enabled to view it.
Occupational Therapy
Tamara Espinoza F.
This email address is being protected from spambots. You need JavaScript enabled to view it.
DEPARTMENTS
Department of Pathological Anatomy
Director
Miguel Ángel Villaseca H.
This email address is being protected from spambots. You need JavaScript enabled to view it.
Fono: (56) 45 2325735
Department of Basic Science
Director
Marco Paredes H.
This email address is being protected from spambots. You need JavaScript enabled to view it.
Fono: (56) 45 2325224
Department of Preclinical Sciences
Director
Christian Herrera G.
This email address is being protected from spambots. You need JavaScript enabled to view it.
Fono: (56) 45 2325720
Department of Surgery, Traumatology & Anesthesia
Director
Héctor Losada M.
This email address is being protected from spambots. You need JavaScript enabled to view it.
Fono: (56) 45 2325760
Nursing Department
Director
Karin Morales M.
This email address is being protected from spambots. You need JavaScript enabled to view it.
Fono: (56) 45 2596647
Department of Medical Specialties
Director
Ulises Guajardo H.
This email address is being protected from spambots. You need JavaScript enabled to view it.
Fono: (56) 45 2325763
Department of Internal Medicine
Director
Edmundo Hofmann F.
This email address is being protected from spambots. You need JavaScript enabled to view it.
Fono: (56) 45 2325755
Department of Obstetrics & Gynecology
Director
Wilfried Diener O.
This email address is being protected from spambots. You need JavaScript enabled to view it.
Fono: (56) 45 2325768
Department of Pediatrics & Pediatric Surgery
Director
Myriam Betancourt A.
This email address is being protected from spambots. You need JavaScript enabled to view it.
Fono: (56) 45 2325769
Department of Public Health
Director Sergio Muñoz Navarro
This email address is being protected from spambots. You need JavaScript enabled to view it.
Fono: (56) 45 2325738
Department of Mental Health
Director
Luis Silva F.
This email address is being protected from spambots. You need JavaScript enabled to view it.
Fono: (56) 45 2325736
Subcategories
FACULTY OF LEGAL & BUSINESS SCIENCE
FACULTY OF AGRICULTURAL AND FORESTRY SCIENCE
FACULTY OF DENTISTRY
• PublicAccountant and Auditor
• Law
• Business Engineering
• Agronomy
• Biotechnology
• Engineering in Natural Resources
• Dentistry
FACULTY OF ENGINEERING AND SCIENCE
FACULTY OF MEDICINE
FACULTY OF EDUCATION, SOCIAL SCIENCE & HUMANITIES

• Civil Engineering
• Civil PhysicsEngineering
• Civil ChemicalEngineering
• Civil Engineering in Computer Science
• Civil EngineeringCommon Plan
• Civil MechanicalEngineering
• Civil Industrial Engineering, mention Bioprocesses
• Civil Industrial Engineering, mention Computer Science
• Civil Industrial Engineering, mention Mechanics
• Civil EnvironmentalEngineering
• Civil ElectricalEngineering
• Civil ElectronicsEngineering
• Civil MathematicalEngineering
• Civil TelematicEngineering
• Civil Engineering in Biotechnology
• ConstructionEngineering
• ComputerEngineering
• Biochemistry




• Nursing
• Speech&HearingTherapy
• Physiotherapy
• Medicine
• Nutrition&Dietetics
• Obstetrics&Puericulture
• Chemistry&Pharmacy
• Medical Technology
• OccupationalTherapy

• Bachelor of Social Sciences
• English Teaching
• Journalism
• Sociology
• Psychology
• Social Work
• Spanish and CommunicationTeaching
• Physical Education Teaching, Sports and Recreation
• History, Geography and Civic Education Teaching
• Science Teaching, mention Biology, Chemistry or Physics
• MathematicsTeaching